Troop 391 achieves the Historic Trail Award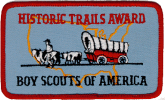 On the weekend of November 5-6, 2022, members of Antelope Valley District Troop 391 completed the requirements for the Historic Trails Award.
They met with Emily Alessio of the Santa Barbara Historic Museum to learn more about the trail they worked on as well as other trails in the Los Padres/Santa Barbara area. They also enjoyed the museum's "Take a Hike, Save the World" exhibition (exhibition open through November 20, 2022).
They, of course, also camped in the area for 2 nights, 3 days.